How to Use a Hammock in an Urban Space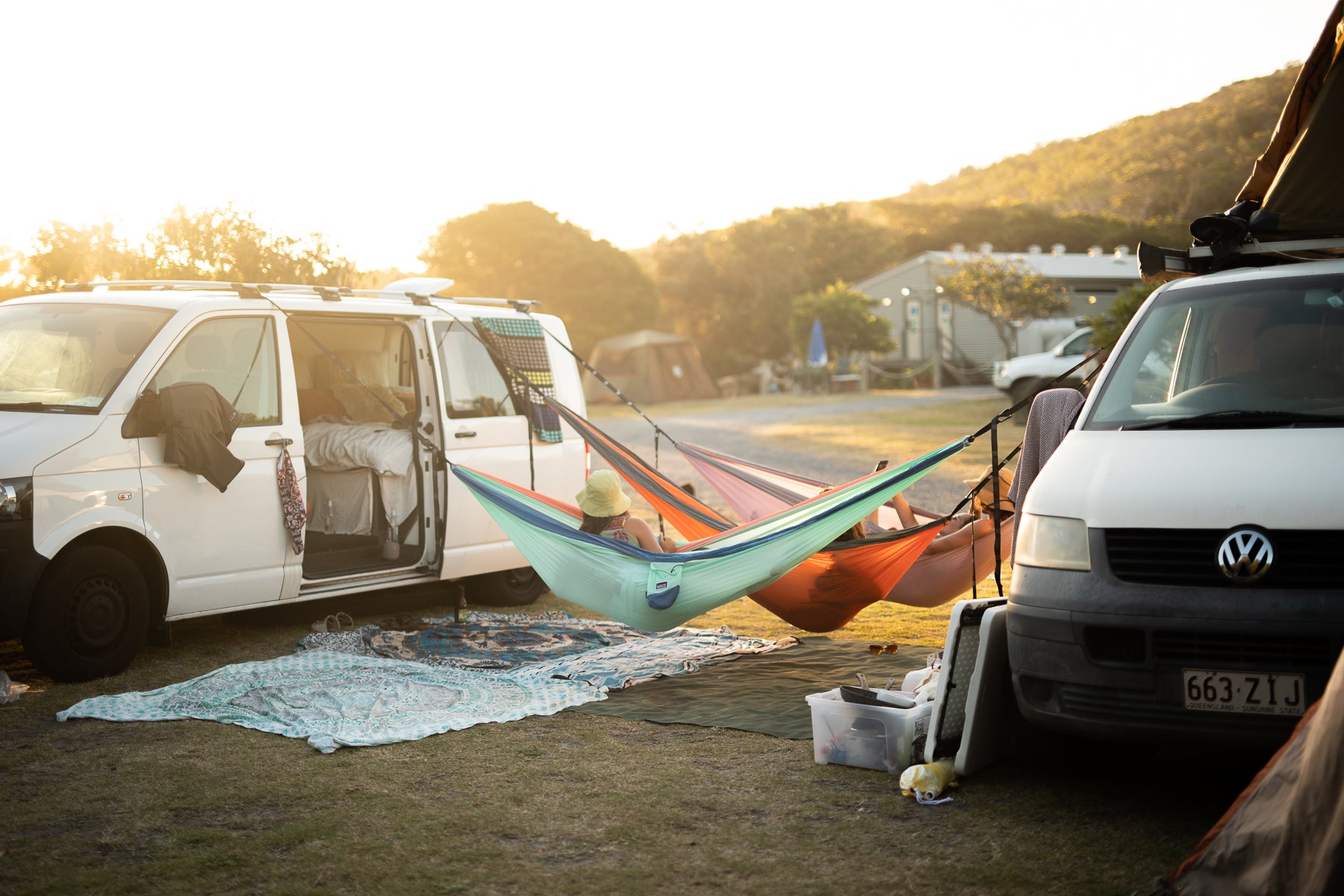 By: Jed Joyosa
Traditionally, hammocks are used as sleeping equipment when out on adventures like camping and hiking – a very handy gear that lets you rest anywhere after a long day of uphill walking or simply when disconnecting from the busy life downtown.
But the ever-changing times have slowly challenged the versatility of these hammocks.
It presents the idea that it's no longer necessary to go out on an adventure to be able to use one. 
As a response to this new concept of modern day escapades, outdoor gear is manufactured in a way that is also able to adapt to changes.
Nakie Hammocks and Nakie Blankets are good examples of adventure gear that go perfectly well together and are adaptable to both traditional adventures or Urban spaces.
This new fun experience is also accessible in tree-free locations like the beaches and deserts. 
People have also successfully reinvented this kind of recreational activity and introduced the use of hammocks in urban spaces.
You might wonder, where can you even hang a hammock in the city?
Well, here are some great ideas where and how you can set up a hammock in urban spaces and enjoy the "same but different" hammock experience.
Backyard  
If you're looking for a spot to lounge at on the daily, then it would be a good idea to set up your hammock in your backyard or even over the pool.
It is one of the most visited spots at home because of the different activities that you could do there. 
It is time to enjoy those trees by using them to help you hang in your snooze spot at the comfort of your home.
Trees usually serve as good foundations for a hammock.
Wrap the straps around two distant sturdy trees. Make sure it's tightly hugging the bark of the tree.
Hook the hammock with the carabiners and jump in.
For backyards that do not have trees, fence posts or poles would do as alternatives.
Look around and use your creativity. You will be surprised at the number of different places you can hang it.   
Rooftops

There are definitely some camping and/or hiking views that just couldn't beat the majestic beauty of an urban skyline.
Rooftops are good places for peaceful hammocking as it allows you to zone out even while in the city.
All you have to do is take your Nakie Hammock to a nearby rooftop.
Although, keep in mind that there should be pillars or railings where you could hang your hammocks too 
Once settled, it will give a totally different feeling especially at a time when the sky is putting on a performance before your very eyes. 
Oh, to watch the sun setting over the cityscape from your own hammock.
It's a dream.
You could even grab a book and just let loose in the moment until you fall asleep.
Then the next thing you know, it has already become your routine.
Vehicles


You might not always have trees around to hang your hammock, but there is normally a car.
Which is why car hammocking has become the "go-to" activity for urban hammock lovers.
It's very convenient since you can easily set up your hammock while the vehicle is parked.
You can use your car's roof rack to secure one end of the hammock. Then tie the other end on something sturdy like a tree or a pole.
If your car doesn't have a roof rack, you can put one end of the strap clipped to the closed door of your car to secure it and tie the other to a stationary object. 
The best cars for this kind of activity are SUVs, trucks, and jeeps; these provide the perfect height in hanging a hammock.
By bringing your hammock with you in the car wherever you go gives so many advantages.
One of which is to let you shut your eyes for a much-needed nap during breaks.
Car hammocking is unquestionably one of the most convenient ways to hang your hammock in an urban space.
Neighborhood Parks
If you miss the feeling of being one with nature again but couldn't find time to go to any camping or hiking spots, neighborhood parks can help you with it.
This is a great way of connecting back with nature without having to leave the metro. 
In every city, there are local public parks that people have access to.
Explore what your own neighborhood has to offer.
These places are known for meditation, exercise, sports, and other recreational activities.
It has a lot of facilities that benefit both kids and adults.
And one of the most relaxing things to do here is just putting your feet up the hammock.
Parks have natural hang spots like trees or poles you could use to tie your hammock too 
Just follow the basic steps in setting up the hammock.
Another way to set up your hammock would be by using a Hammock stand. It's just an affordable equipment that lets you hang the hammock anywhere you like.
It is a good alternative to trees and poles since it allows you set up in places you would like to chill at.
Nowadays, adventures are found anywhere that makes you feel happy, peaceful, and alive.
It gives the feeling of being empowered, that you are still the one in control of your life. 
A good reminder that in the midst of the busy and stressful city life, don't forget to still rest and recharge.